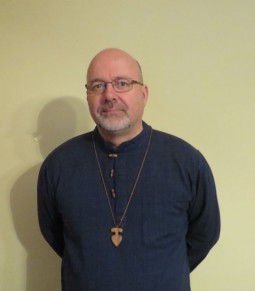 Renewal: An Inside Out Job  
Is it too late to say, "Happy New Year"? Possibly, but even if it's too late for the greeting, you may be one of those people who has determined that 2018 is going to be different for you.
Facing a new year, with its hopes and challenges, where so much is possible and so much is at stake, is often a time when people resolve to make changes in their lives. According to some surveys resolutions to bring our finances and our health, mostly our weight, under control top the list. That this is the case year after year suggests that we do not do well in staying with our resolutions.
Why should it be so?
There are, no doubt, lots of reasons, but one I think is that we do not understand that fundamentally change and renewal is something that starts within us. It is an 'inside out' job. We've all seen those 'make over' shows on TV where, for example, people have their diet strictly controlled and exercise is regulated for them. The results can be dramatic, but often, so it seems, the people who make headway in their weight loss goals slip back when the cameras stop filming. Why? Because real change involves an inner change of thinking and outlook, not just a surface change.
In Mark's Gospel (Mark 7:1-23) Jesus is having an argument with some of the religious heavy weights. The issue being debated came about because Jesus didn't conform to some of the strict rules governing outward behavior. His point was that if real change were to happen, it needs to take place in the heart, for it is from the heart, the inner life of a person that their actions come. If the heart is right, the life will be right.
There are other references throughout Scripture which make the same point; renewal begins with the inner life and then reveals itself in our outer life. (see Romans 12:2; 2 Corinthians 4:16; Ephesians 4:23; Colossians 3:10-11)
Wise Elders of our faith remind us of this when they invite us to be attentive to what lies within, to be aware of the depths of the inner life. To be renewed, to be transformed, we need to notice what enhances our well-being as distinct from that which produces or reinforces confusing, destructive thoughts and action.
To become deeply aware of that we need to take time to listen to one's inner life. We don't find that easy in our busy, noisy world, yet listening to our inner life presumes being in or creating a quiet environment in which we can begin to recognize what is happening internally.
Those same Wise Elders offer us spiritual practices that bring us to a place where we can be more open to listening to the Spirit working within. Times of solitude and silence are two of those practices. Another is a simple practice called, The Prayer of Examen, a very simple process whereby we pray through our daily lives. Below is a suggested way (but not the only way) of undertaking this practice.
Find a time and a place where you can be in quietness. Spend some time slowing down and entering into the stillness.
Remind yourself that God is present with you every moment of the day. Ask God's Spirit to lead you back through your day and open to you that to which you need to pay attention.
Review your day by asking two simple questions:
1) If you could relive any moment which brought you deep contentment, what would it be? What happened that made it life giving? Sit with that moment and allow it to give life to you again. Give gratitude to God for this moment.
2) If you could go back and change any moment in your day, what would it be? What made that moment difficult? Sit with this moment and allow yourself to feel the emotion of it. Give that moment to God for healing or forgiveness.
Reflect on these two moments and take from them what you need to.
Conclude by giving thanks to God for all the ways God has been with you, resolving to take with you what has been learned through this reflection.
May you have a blessed 2018.
Peace,
Gary Stuckey (Rev)