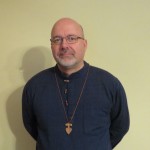 Today we come to the last day of the year!
Well, it's the last day of the Christian year anyway. It's the day that ends the season of Pentecost and precedes the season of Advent which begins next week.
As such it is a special day, a festival day: the Festival of Christ the King or The Reign of Christ.
As a festival of the Church, however, it is a relatively new and recent celebration. It was proposed by Pope Pius IX in 1925, so it is less than 100 years old. While the Church has always celebrated images of Christ the King, Pius felt at this stage of world history this image of Christ needed a special focus.
To understand his reasoning we need to think of what was happening in the world at that time. WW1 was only just over, Nazism and Fascism were on the rise and the Great Depression was just around the corner. Pius felt that the world was in this turmoil
because, "the people of the day had thrust Jesus Christ… out of their lives and these had no place in public affairs or politics." Pius felt that as long as people found no place for Jesus in their lives or world affairs there could be no lasting peace among the nations and no peace in lives. So he proposed a feast to encourage people to refocus on Jesus, to reaffirm Christ's reign, to imagine and live out what the world would be like if Christ we in charge.
In our readings today we see an image of what such a world would be like. As we
celebrate Christ the king, we do so not as the kind of king or ruler who seeks power or prestige or position, but a king who is in solidarity with the 'little ones' of this world: the hungry, the poor, the homeless and the landless.
He is indeed, the servant king who calls us to serve with him the forgotten ones of this world.
The reading form Ezekiel (34:11-16, 20-24) also takes up the theme of compassion to those considered the least. The prophet reminds us that even when human
companions fail the little and the least, our Divine companion never does, always
acting for their well-being and inviting us to do the same.
Let us worship our Servant King!
Peace,
Gary Stuckey (Rev)