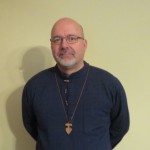 Resolving our differences
The theme for services at BCUC during September is "Relationships." That is hardly surprising. The pages of the Bible often address the relationships amongst the people of God and exhort us to engage in supportive, encouraging and loving
relationships. The way we relate to and with one another is a part of our witness to those around us.
However, we know that even in the best relationships differences and conflict will arise. And so it sometimes is in the life of the church. There will be times when those alongside whom we work and worship in Christian community will see things
differently from the way we do. Sometimes these will be small differences, easily
resolved. On other occasions the differences will be over more substantial matters.
I've heard it said on occasions, as I'm sure you have, that as a Christian community we shouldn't experience differences, let alone conflict. A common criticism of churches is, "Look, they can't even get on together." But this misses the point.
The text from Matthew's Gospel this morning is about resolving conflicts that arose within the church. That Matthew even wrote about this at least shows us that this is nothing new! There have always been differences when people get together, even as the church. When you look around at those with whom we are in Christian community and consider how different we are, sometimes it is surprising that we can agree on anything at all.
As Jesus addresses the matter of handling differences, he starts by assuming that they will arise. What makes the difference is not whether or not we fight or disagree or wound one another, but how we go about addressing these issues. We are not to yell, slander, gossip about or humiliate those with whom we disagree, but neither are we to pretend that conflict does not exist. The invitation is to seek reconciliation, and Jesus provides a way to move in that direction. Firstly, we go to the one with whom we
disagree privately. If that fails, involve one or two wise, trusted people to help towards reconciliation. If the matter is still not resolved, it is then given a public airing in the church. But always the aim and desire is for reconciliation.
Could we do any less when we worship a God who is reconciling all things to himself?
Gary