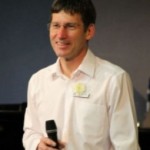 Get yourself up on a high mountain,
    O Zion, bearer of good news,
lift up your voice mightily,
    O Jerusalem, bearer of good news,
    lift it up, do not fear.
Say to the cities of Judah,
    "Here is your God!" (Isaiah 40:9 NRSV)
These are the words of the Prophet Isaiah to the people of Israel some 700 years before the birth of Jesus the Christ. I wonder how we can respond to these words today.
At our school ministry this week, as we have been telling the story of the first Christmas, one little girl asked, "Why is it called Christmas?" My answer to her was that the first part "Christ" is the name for Jesus who came to the world to save us and that the second part "mas" is the word for worship and so Christmas is about showing our love for Jesus who came to save us.
I pray that in this Christmas season you will also find ways to say to the world, "Here is your God!"
In recent months, through the generosity of an individual donor, we have given away over 200 Bibles in the foyer of our church. More than 50 of these have been children's Bibles. Each gift has ensured that the message "Here is your God!" has been received. I have heard stories of grandchildren reading their Bibles and asking wonderful questions of their grandparents as they read. These precious moments are the moments when these children are discovering their God.
We have special Christmas services here at church in the coming weeks to celebrate the birth of Jesus our Saviour. This Sunday at the 10.30am Classic Service we are celebrating the truth of God with us in the Lessons and Carols. Next Sunday, December 17th the
Junior Church will lead us at 9am to celebrate the joy of God with us in dramatic form as the children dress up and act out the story of the first Christmas.
On Sunday December 24th our worship will focus on celebrating the coming of our
Saviour as we worship together at times that are a bit different than our usual Sunday practice.
Classic will be at 10.30am,
Contemporary will be at 5pm and Café will be at 11.30pm.
That's right – Café Worship at 11.30pm!
Then on Christmas Day we will worship together at 9.30am.
Each of these times of worship will be an opportunity to get yourself up on a high
mountain and say "Here is your God!"
This information is available on our Christmas postcards that have been delivered to 5,000 homes in the Burnside area and are at the reception desk for you to take home.
Here is a challenge for you. Think of someone you can invite to one of our Christmas
services so that they too can hear the good news that Jesus the Christ has come to us to bring us joy.