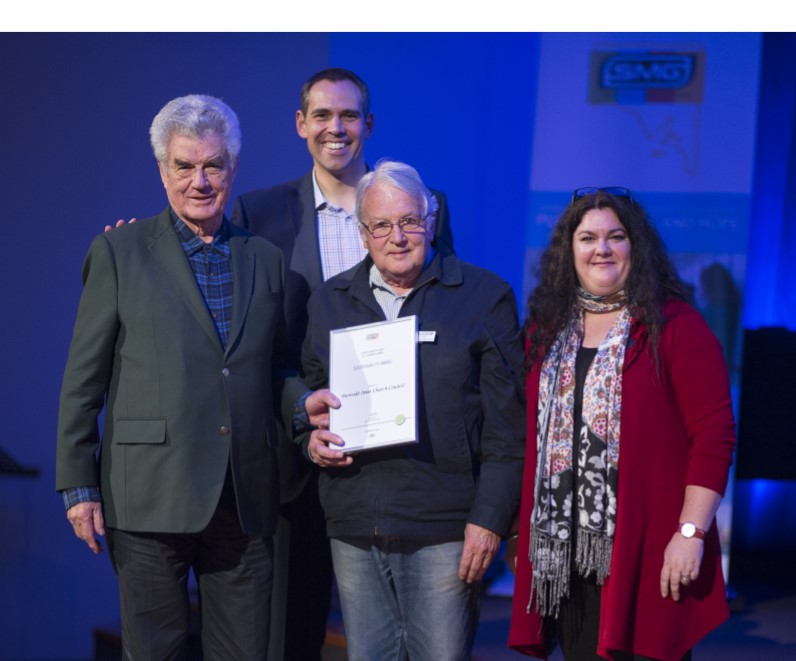 Burnside Inter-Church Council receives Sustainability Award
Last night at a Schools Ministry Group (SMG) Community Event the Burnside Inter-Church Council was presented with a Sustainability Award for the
support they provide to schools in their local community. For many years they have raised funds to support SMG's Chaplaincy and wellbeing services at Burnside Primary School, Glenunga
International High School,
Marryatville High School and Marden Secondary College.
The award recognised the initiatives undertaken by the group to actively fundraise through new ideas, events, activities, initiatives and partnerships, and to have strategies in place to maintain these
important services to students, families and school staff into the future. Recent
fundraising events have included fairs, talent shows and quiz nights.
Steph Agnew, Pastoral Care Worker at Glenunga International High School has been greatly encouraged and supported by the group "I nominated the Burnside Inter Church Council because they are really proactive with their support. Their priority is the students in the schools and having us there as carers and people to help when it is needed."
Angela Jolly, Executive Director of Schools Ministry Group said "Today SMG
provides over 340 schools across South Australia with a Chaplaincy Service, it
continues to offer seminars and interactive workshops for primary and high school students, and contributes to the positive wellbeing of children with its Community Services. We do this in partnership with local community groups like the Burnside Inter-Church Council who also help in their local schools with breakfast clubs, lunchtime activities, mentoring and many other activities and programs."
SMG Ambassador Brenton Ragless and SMG Executive Director Angela Jolly
presented Burnside Inter-Church Council representatives Malcolm Lake and Rex King with the SMG Sustainability Award.