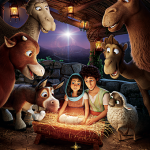 Christmas 2017
Next week we will be presenting the Christmas Play in our local Primary Schools. We have a team of dedicated actors from our local churches who have been rehearsing the play in November. The 30 minute play simply tells the story of the first Christmas by involving the children on stage. We will have
shepherds, angels and wise-men joining Mary and Joseph on stage as the story is told. The children are invited to dress up in costume and participate in the story with us.
Please pray for each of the four schools we will visit as they welcome us into their school communities and engage in the message of Christmas.
On Monday December 4th we will spend the day at Linden Park Primary School. On Wednesday we will be at Burnside Primary School for the day and on Thursday we will perform in the morning at Marryatville Primary School and go to Rose Park Primary School for a lunch time performance. Prayers are requested for the actors (Glenyss, Gerald, Mark, David & Jessica) as they take time off from work or study to dedicate themselves to this wonderful ministry.
Thank you also to our Pastoral Care Workers for their support of this work in their schools.
This year the message of Christmas will be on the big screen in the new
animated movie called "The Star". I am hoping that through our efforts in the schools when we encourage the children to learn more about the Christmas message by inviting them to church events, we will also be able to suggest that they see this movie. This may also be a great family outing for our
children and grandchildren. It will certainly give us an opportunity to talk about the birth of Jesus our Saviour.