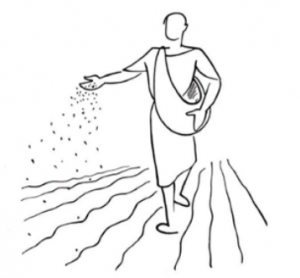 The Parable of the Sower, one of the best known of Jesus' stories, uses the unpredictability and hardships of farming life to ask its hearers to reflect on life in general, but for Christians it reminds them of their mission to spread the Gospel through service and witness. The story seems to be dominated by the ways in which the spreading of the Word can be frustrated and it is easy to overlook the message of encouragement that ends the story.  ….they bear fruit, thirtyfold, sixtyfold, even a hundredfold. Mark 4:20
In recent weeks it has been almost impossible to be unaware and unmoved by the plight of the many farmers across Australia suffering the effects of prolonged drought and others the results of hundreds of bush fires. It has been heartening to see and hear the massive response to their hardship. Frontier Services of the UCA is supporting outback communities and isolated families in good times as well as difficult ones. The Outback Padres mission is constant and in continuation of the long and honoured heritage of Rev John Flynn. They are respected and welcomed throughout the outback because they listen, care and understand. They endure the rocky patches, push through the weeds and scare away the predatory birds as they touch the lives of the lonely and isolated.
We can support this work in many ways. The article in the current edition of CHATS mentions the hosting of a fund-raising Outback BBQ and the support of the Red Dove Café at the Show. (Funds from the Café have helped re-establish a part time Padre based in Ceduna). Please keep Frontier Services, the padres and their families, and the other agencies working in the outback to support families who even in the good times do it tough.