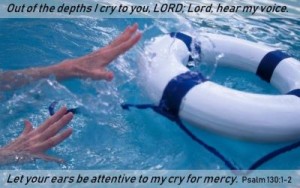 Very occasionally I've watched gangsta type movies. I always find them somewhat despairing and soul-less. It usually involves some young guy trying to find acceptance while making a name for himself by gradually doing more violent, dreadful, and immoral things. Eventually they are in so deep that it seems like there is no way out and then the twist at the end is they become the kingpin themselves or they are caught. The road to redemption however is rarely offered. The hole they found themselves in they only ever dig deeper. This is where Psalm 130 becomes the song of the hopeful, future redeemed. It begins with a well used phrase of the psalmist "I cry out". From out of the depths I cry out… who will save me from my sin!!
This short psalm is a favourite psalm of many great Christian leaders and thinkers including Martin Luther, Charles Wesley, Calvin, Augustine and John Bunyan. 19th Century C.H. Spurgeon said that v3 and v4 contains "the essence of all scripture".
How do you get out of the depths? How do you stop digging and climb right out? The answer is: not on your own but only with God. The Psalm gives 6 milestones to help climb out of the hole of your own making. They are: crying (including heartfelt humble prayer); surrendering to God; seeking his forgiveness; waiting; hoping; and receiving his gifts of unfailing love and full redemption. These milestones of Psalm 130 tell the concise story of the Christian journey from death to life thanks to Jesus. It's what John Bunyan writes about in the first English novel ever published "Pilgrims Progress", now portrayed in a new movie showing today.
I wonder if this is your story?
Is this the journey you have had or are having? If so, you are in good company – from the psalmist through to some of the greats of Christian history today. The best gangsta stories are the rare times when repentance mixed with redemption happen, thanks to Jesus.
Your Brother in Christ
Benji