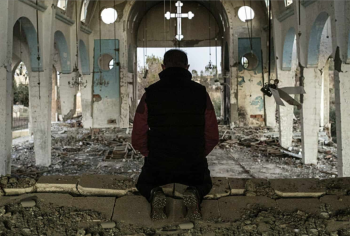 The Beatitudes reflect the essence of Jesus' teaching to His disciples. The simple statement that he sat to teach is not just a description of preaching sitting rather than standing but a testament to the authority of what he was saying. Rabbis "official" teaching was always delivered sitting. In the Roman Catholic tradition, the most profound statements when a Pope invokes the authority of God are pronounced ex cathedra; from his seat. In the secular world the authority of a Professorship gives rise to the term a Chair.
Today we examine: "Blessed are the Peacemakers for they shall be called Children of God". This is an active role and differs from peace lovers. Peace lovers seek to avoid conflict to keep the peace. Peacemakers face the trouble that is threatening the peace and establish right relationships between people. This is doing God's work.
Then we have statement about those who are persecuted for the sake of righteousness, for the Kingdom of heaven is theirs. To suffer persecution for Christ shows a loyalty, but in our country,  many may not face that challenge, although increasingly we find society's attitudes toward the church and its teachings are at odds with Christ's teaching. The important point is that we never face persecution alone, Christ is with us. However, do we all have to be constant critics, condemning society to show our loyalty? No. Here William Barclay made the point that it is not the duty of every Christian to be vocal, but often living Christian lives silently condemns the lives of the un-Christian and will incite persecution at least in the form of mockery and insult.
I leave you with 2 challenges:
Being a Peacemaker
What is one instance in your life this week where you can actively act to prevent someone's action (or your own) from disrupting the peace?
Being persecuted for righteousness
Identify one important way that you live your life that is likely to elicit scorn or contempt from those around you and commit to continuing to live that way by the example of Christ.