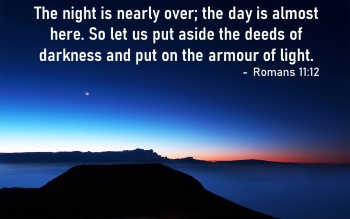 It's the first Sunday of Advent! Maybe you have kids like mine who woke up this morning and opened their cardboard windows to find a Christmas themed sliver of cheap European chocolate to eat. A sure sign that Christmas is coming, Jesus is near, the countdown begins. However, the church season of advent has not been just about counting down to Christmas Day. The lectionary readings are often focused on the theme of Jesus is coming… again. Scholars like to call it the apocalyptic texts. Things such as:
For the Lord himself will come down from heaven, with a loud command, with the voice of the archangel and with the trumpet call of God, and the dead in Christ will rise first. After that, we who are still alive and are left will be caught up together with them in the clouds to meet the Lord in the air. And so we will be with the Lord forever. 1 Thessalonians 4:16-17
Today's reading says: Keep awake therefore, for you do not know on what day your Lord is coming. Matthew 24:42-44
This line of Christian thought has historically attracted the attention of the religious fringe. With all sorts of speculation about exactly how and when the second coming, the great tribulation, the rapture or the apocalypse will occur. For example recent history tells of a group of people who sold everything they owned and built a makeshift grandstand to watch Jesus come walking in through the heads of Sydney Harbour, which must have been rather embarrassing for them when he didn't show up.
You may be like me and have observed this kind of behaviour and talk then wanted to distance yourself from it. Our loss is that we ignore and even dismiss a vital understanding of the Christian faith. Over the next few weeks we will address this gap. Keep in mind the condensed understanding of the second coming of Jesus that Dean Brooks recently explained to me.
Jesus promised he will return. Human history is linear. There is an alpha and omega, a beginning and an end with Jesus in control of both.
We don't know when it will happen. Even Jesus on earth didn't know. There will be signs like windows in an advent calendar, but we don't know how many windows there are. Just trust and wait.
Live your life now as if it is imminent. As the bumper sticker says: "Look busy, Jesus is coming". Be reconciled to the people around you, sort it out, get a clean slate now with God and with others, don't wait, just be ready and follow the Scout Motto "Be Prepared".
(In keeping with this theme the Christmas decorations this advent will be minimal compared to those you find in shopping malls. We will emphasise the coming of Christ like the darkness of the earth giving birth to a new day. Look out for decorations highlighting the trumpet call of God.)