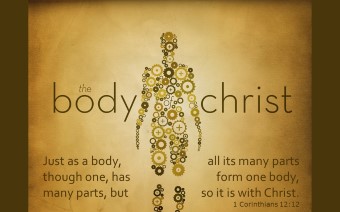 It began as Jesus left the disciples with the promise of the Holy Spirit to give them the power to love each other, their neighbor and God in revolutionary ways while spreading the good news of Jesus, growing the church and enduring great suffering.
The perfect picture we have is in Acts 2 where people devoted themselves to the apostles teaching, fellowship (community), breaking of bread and prayer. As it grew, the early church writers tried to find images and metaphors that could describe this new group of people. They talked about the church as a building with a solid foundation, a temple of the Holy Spirit built of living stones, a vine, a bride and flock of Christ.
The body of Christ (1 Corinthians 12 and Ephesians 4) has been one of the most enduring metaphors. It helps understand the ideal of the church universal, the Uniting Church and the local congregation, e.g. BCUC. Reading it in Corinthians, this was an image given to a church in conflict, full of jealousy and 'us and them'. The image was given to help it stay united in Christ.
At its basic level, we're all knitted together with Jesus as the head. Expand on this image and things get interesting.
A human body is dynamic, growing, changing, moving, resting, organic, eating, excreting, full of amazing potential to build gardens, run marathons, construct airplanes, heal others, wrap people up in love, create and destroy, love and hurt, do much or do very little. But a body is not a fixed building or a monument. That's a statue. The bible doesn't say the church is a statue. It is the same way with our church.
We all have different roles. Encourage each other, don't envy or look over your shoulder or get annoyed at the other. Very different bits and organs of body work together not separately. Celebrate your uniqueness and that of others.
When one bit hurts we all hurt. When all bits work well things can really move.
We can increase the fitness, strength and health of a body.
Jesus is the head. More specifically, the brain and the central nervous system. Giving electrical impulses to the rest of the body in a feedback loop.
At its best the local congregation is a beautiful expression of the body of Christ. Healthy, dynamic, creative, healing and bringing light to a broken world. I pray that the Holy Spirit will continue to knit us together at BCUC to be a great example of the body of Christ. —Your brother in Christ,  Benji