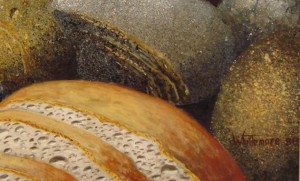 The season of Lent has begun.
This is the time of preparation, 40 days before the church celebrates the death and resurrection of Jesus (technically 40 days starts at Ash Wednesday and doesn't include Sundays).
For this period at BCUC we will looking at the gospel lectionary readings. They are all wonderful stories or Jesus interacting with people. We are loosely calling this the "God connects" series as we discover different ways that God through Jesus personally interacts with people.
For those who are Nick Cave fans (an Australian singer who was big in the 90's) they may remember a love song called "Into your arms" that begins "I don't believe in an interventionist God". Well these stories show that if Jesus is God with skin on, then God is very interested in the everyday person like you and me. He is not absent in his ivory tower, too important and too clever to stoop down and notice little ol' us. God of Jesus Christ is very interventionist. 
Each week will reveal not just how much and in what way God connects with us but also God's friendship.
"When Jesus saw their faith, he said, 'Friend, your sins are forgiven.'" Luke 5:20
Here's an interesting exercise: use a website or app called 'bible gateway' and use the search engine to see how many different references in the New Testament there are to the word "Friend". It's quite beautiful and rich. Jesus refers to those who trust and believe in him as 'friends'. Friends to eat with, to cry with, to celebrate and party with. Not subjects of the great king useful only of distant grovelling, but friends.
At BCUC we love worship to engage all the senses. That's why for lent we will be able to see the unfolding story of Jesus friendship with silhouettes of at first Jesus and then all the other friends he makes along the way go the cross, finishing at Easter with us. Keep an eye out for them in all three services and thanks Michelle P for your handiwork. Use them as visual reminders of each weeks stories.
I pray we will enjoy the adventure with Jesus together and be challenged, inspired and full of gratitude that God does indeed connect!