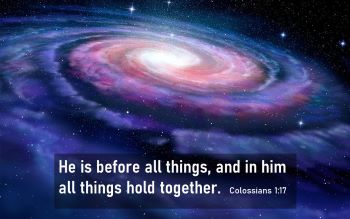 Who/What is the Centre of your universe? I'm not asking that question in any planetary sense but very personally.
There are many people and/or things around which our lives revolve.
Youth today plunge into deep anxiety when parents ban the use of electronic gadgets for misdemeanours.  The confiscation of their mobile phone is second only to death!
Adults are not immune from placing things and people in the centre of our lives. Various forms of media, people and fashions compete for our devotion under the guise of being a friend, or an aide to life. They promise home, body, spiritual, retail and technological renovation. Who or what truly deserves our devotion? Who/What is the centre of our universe? This is St. Paul's basic question in our reading from Colossians today. And his answer is – Christ alone
He (Jesus) is the head of the body, the church; he is the beginning and the firstborn from among the dead, so that in everything he might have the supremacy.           Colossians 1:18
Today we celebrate the last Sunday in the Christian Year – the Festival of Christ the King through which we affirm that Jesus is the One who is at the very centre of our lives – our universe.
The Lord God, through the prophet Jeremiah proclaims
The days are coming, when I will raise up for David a righteous Branch, a King who will reign wisely. This is the name by which he will be called: The Lord Our Righteous Saviour.                Jeremiah 23:5-6
I was surprised to discover that there are some 43 or 44 countries in our world today that have monarchies. There are many images that came into my mind when thinking about this – vast palaces, pomp and ceremony, wealth beyond imagining.
However, we need to know that Jesus is not a far-removed king on high but one who bends himself to our brokenness so that we might be saved. He displays his kingship in service to others and his death on the cross. In this servanthood and life-giving love, Christ reigns. His presence is to be found in the difficult, struggling and painful places of our world.
This King deserves my love, my allegiance, my service in this world with him in the places he is and calls me to be.
King Jesus is worthy to be the Centre of our universe.