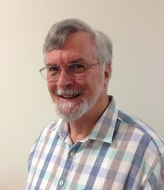 When we become followers of Jesus, either suddenly, or slowly over the years, we experience a profound change. All things are new and exciting and old things are seen from a new perspective. We no longer see people from a human point of view. New spiritual depths are plumbed and new resources for living become available through the Holy Spirit at work in us. If that were not so, many of us would have slipped back into a befuddled apathy towards Jesus years ago.
Believers don't see themselves as living fully right now in the kingdom of God. We do recognise we have been caught up in a new way of seeing and living, of respecting ourselves as God's children, of treating each other lovingly, and of reaching out in love to those who are still trapped in the ways of the world around us.
This newness is particularly clear to new Christians who have had no previous church experience. For them the contrasts are dramatic. The whole world looks different. A new abundant life, teeming with  possibilities, opens up before them.
For those brought up in the faith since childhood, the contrast between the old creation and the new isn't as sharp. We can be lulled into taking the miracle of saving grace for granted while newcomers are on cloud nine with Jesus!
It's helpful for long term Christians, to have close encounters with brand new Christians to make us stop dead in our tracks, look around again at the old world and its negatives and marvel at the privilege that has become ours.
2 Corinthians 5:6-10, 14-17