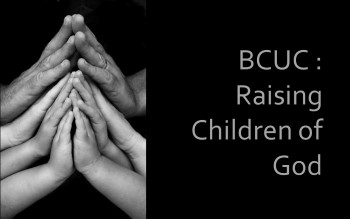 Jesus left Earth and his disciples with a vision: "go and make disciples of all nations, baptizing them in the name of the Father and of the Son and of the Holy Spirit, and teaching them to obey everything I have commanded you." (Matthew 28:19-20). Then he gave them the action plan "you will receive power when the Holy Spirit comes on you; and you will be my witnesses in Jerusalem, (local) and in all Judea and Samaria, (regional) and to the ends of the earth (global)." Acts 1:8.
This year we have been asking the question "why does BCUC exist? What is our purpose?". Following discussions at our Church Council retreat, getting a 'feel' for the place, after much discussion, prayer and observation about the great strengths, aspirations, hopes and prayers for BCUC, plus based on survey results and the open prayer time, we kept coming around to the phrase "it takes a village to raise a child", it takes a church community to raise a child of God. We settled on our mission and vision statement, our primary purpose as a church being: "raising Children of God".  
Raising: this is the work of discipling, it is the main work of the church with the guidance and help of the Holy Spirit.
Children of God: a New Testament term for those who are loved, known and know Jesus. This is our primary, eternal identity which can never be taken away. We become brothers and sisters in Christ. By being called "children" there is humility and loving obedience to God. We are all still growing like children in our faith. 
For the next three years at BCUC what does this look like? What is our action plan?
"I Can't Wait Worship" Develop worship times and services that best match what God is doing in and through BCUC to provide passionate/engaging/meaningful/God honouring worship for ALL the children of God at BCUC and those yet to come. Includes creativity, engaging all-ages and intercultural worship.
Raising Disciples With significant impactful small group ministry, regular alpha groups, loving prayerful pastoral care, healing ministry, raising leaders (gift development), development of a teaching school (e.g. apologetics/ preaching) and beyond ourselves ministry (local, national, international) including focusing our mission funding on large Uniting Church national and international projects.
Preparing the ground Developing BCUC values as a whole congregation. Having clear and simple pathways for membership and service with clear and simple decision-making structures and integrating modernised online systems (Elvanto, worship, finance). 
Raising local's With the challenging aim of having a congregation that matches the demographics of the community "the children of God= the people of Burnside". Currently youth and young adults are our biggest gap. To help us we aim to employ youth/young adults pastor 0.4 from 2020 and then a families pastor 0.4 from 2021.