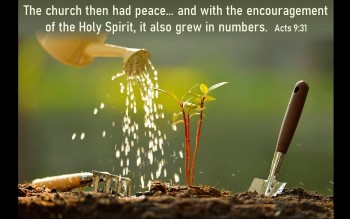 This Sunday Jenny Olver is preaching at the Cafe service about the value of encouragement in a Christian community by first looking at the story of Barnabas whose encouragement of Paul led to him being one of the greatest church planters and writers in history. Rev Charissa Suli will be speaking in 9am and classic service from the lectionary and also about the importance of mentoring the younger generation.
The book of Acts is like a bloggers journal of the birth and spread of the early church from Jerusalem to the capital of the Roman Empire. By chapter 9:30-31 we have these beautiful verses that say the early church experiences a period of peace and grew in numbers thanks to the encouragement of the Holy Spirit. As we seek to grow and raise children of God at BCUC let's draw on that same spirit of encouragement.
Last Thursday I had the privilege of preaching at the induction service of Rev. Tim and Rev. Sil Hein at Malvern UCA. As I was about to get to the pulpit many memories of my involvement in Malvern came flooding back from my first sermons, kids talks, choir singing, weddings, dramas, nearly burning down the church in a creative worship service using way too many candles and more… I was grateful for the encouragement and the risk that the congregation and leaders had taken to raise me up as a child of God, equipping me for mission and ministry. I imagine that without their encouragement I might still be spreading bacteria in a lab somewhere wondering if there is another calling for my life. Have you been a "Barnabas" to someone or had a "Barnabas" encourage you?
Jenny asks a number of very valuable questions:
what would BCUC be like if it was not just a welcoming church but rather an encouraging church?
Are you open to responding to the Spirit's leading?
Are you prepared to step up and approach someone?
Are you ready, like Barnabas, to relinquish a role, its praise, its past and maybe even the historical memory of your contribution following successful encouragement of others?
We can all exercise the gift of encouragement. Take a risk, look beyond yourself and your own ministry areas, who is God leading you to encourage today?