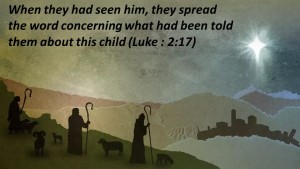 KCO is Coming
Kids Camp Out (KCO) is on the way. On 23rd and 24th March 2019 hundreds of campers, junior leaders and leaders will gather at Adare Caravan and Camping at Victor Harbor for a fun filled 24 hours of stories, games, crafts, Bible studies, food, fellowship and some sleeping. Make a note in your diary and let your friends know so they can join us for a fabulous time. In 2019 there will be no cost for campers and helpers so let's bring as many children as possible. More information will be available soon.  This year we are looking for a coordinator, so if you would like to be part of the KCO leadership team speak to Gaynor Strapp.
BCUC Christmas Postcards
We would like to encourage you to take home some additional BCUC Christmas postcards to distribute to family, friends,  and mailboxes in your neighbourhood. Extra cards are available in the foyer.  Take as many as you can distribute.
Christmas Bowl 2018
Giving envelopes for the Christmas Bowl appeal are inserted in this newsletter. Extras are available in the foyer.   You may place completed envelopes in the bowl at the back of the sanctuary between now and December 30.
Dr Jon's Pantry
Can you help? We are running out of small/medium size Jars. 230 – 300 gr. Think: Beerenberg, Master Foods or Bonne Maman. Thank you!
Wear Green Next Sunday
The Lord is my shepherd, I lack nothing. He makes me lie down in green pastures, he leads me beside quiet waters, he refreshes my soul!  Psalm 23:1-3.  Help celebrate the peace of Christ next Sunday by wearing green to church.
Tuesday Morning House Group
We meet at 10am on the 2nd & 4th Tuesday of the month, upstairs in the church. In February we will begin "The Blessings Course", based on the books that came out of the Ffald y Brenin retreat centre in Wales, scriptural and inspiring. If you are looking for a daytime study group, we'd love to see you. See Colette Williams for more information.
BCUC Cares
Uniting Communities thanks BCUC for their continued generosity in providing food & toiletry items each month.  Along with the usual items, there is a current need for shampoo, conditioner, toothbrushes and coffee.  Donations can be brought to service on any Sunday.