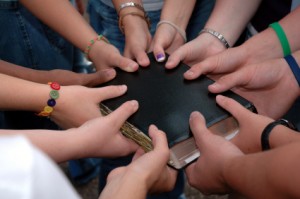 This morning the Wednesday morning prayer group began reading The Gospel of Luke after more than a year of reading the Psalms. We had enjoyed the poetic imagery of the Psalms and had decided that it was time for some New Testament story.
Chapter 1 of Luke is filled with excitement as we read about the power of God at work in the lives of Zechariah, Elizabeth and Mary. Babies are announced, angels appear and there is new hope for the people as the Holy Spirit is at work. The message is even clearer as the different voices of our group read, especially the two teenage girls.
There is something special about reading the Bible and praying aloud. It is a statement of faith and an affirmation of our commitment to God. I encourage you to read and pray out loud, even if you are on your own and be ready for the power of God to work in your life.
"Is prayer your steering wheel or your spare tire?" ? Corrie ten Boom