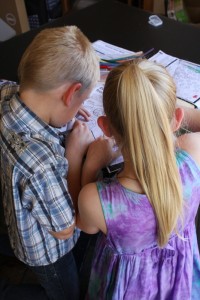 The Junior Church team consists of dedicated volunteers who enjoy teaching and nurturing children. To be a member of the team you must regularly undergo a National Police Check through the Uniting Church, and be happy to work as part of a group.
The leaders seek to build a sense of a Junior Church community and of belonging as they develop their relationships with the children. The leaders value the special qualities of each child, and children are encouraged to grow in faith, to reflect on their own behaviour, and to be considerate of and care for others.
Any adult, young or old, who would like to join the team and share in this valuable and enjoyable ministry, is most welcome! Perhaps you might like to volunteer once a month, as a teacher or an assistant, or maybe lead a group during school holidays.
The leaders proactively develop positive peer groups, build links with families and create intergenerational links with the wider church community, whilst sharing the 'Big Bible Story' with the children.
If you would like more information, please speak to Nicole Callen or one of the teaching team.