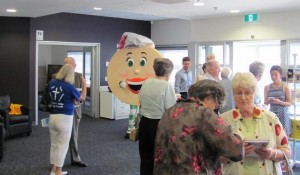 Pancake Day is UnitingCare South Australia's leading fundraising event and each year falls on Shrove Tuesday, or the day before Ash Wednesday.
Traditionally, Shrove Tuesday is the last day to eat all the flour, eggs and dairy products in your kitchen before the start of Lent which is a time of abstinence and reflection in the 40 days before Easter. The European custom of making pancakes on Shrove Tuesday was one way to use up these 'luxury' items and over the centuries, Shrove Tuesday and pancakes became perfect partners.
This each year, thousands show their support for people in need by flipping and eating pancakes at events state-wide in SA (and VIC) throughout the months of February and March. Hundreds of  groups including schools, churches, businesses and community organisations join in the fun.  To register your own event, use the 'Register' box found to the left of the page.
Donations and money raised from the sale of pancakes goes directly to local UnitingCare agencies to help them provide practical support to South Australians in need including those without a home, people living with disabilities, vulnerable children and adults, older people and families in crisis.
Since its inception in 2002, more than one million pancakes have been sold and over $500,000 has been raised by groups state-wide!
For more information, see Uniting Care – Pancake Day.