Know yourself – the beginning of true spirituality (Mark 10:17-31, Psalm 22:1-15)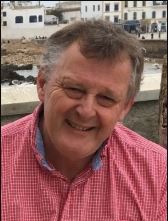 Rev Trevor Klar, 21 October, 2018
preached at a
Sunday Morning
service
One area of our lives that we seldom think of as needing to be under Christ's Lordship is our emotions. We believe these are ours alone and yet they are very much part of our createdness. God knows and understands we are emotional beings. If we look at Psalm 22 we see the psalmist is emotionally all over the place, and yet he seeks to bring even his dark emotional place under the hand of God. To grow into Christian maturity we too need to bring our emotions under God's control. This does not mean we shut them down, rather it means we know our emotions, hear what they are telling us about where we are, and then bring this before God to find God's wisdom about how to act in an appropriate way.
Then we will grow more and more in the imitation of Christ.
Mark 10:17–31 (Listen)
17 And as he was setting out on his journey, a man ran up and knelt before him and asked him, "Good Teacher, what must I do to inherit eternal life?" 18 And Jesus said to him, "Why do you call me good? No one is good except God alone. 19 You know the commandments: 'Do not murder, Do not commit adultery, Do not steal, Do not bear false witness, Do not defraud, Honor your father and mother.'" 20 And he said to him, "Teacher, all these I have kept from my youth." 21 And Jesus, looking at him, loved him, and said to him, "You lack one thing: go, sell all that you have and give to the poor, and you will have treasure in heaven; and come, follow me." 22 Disheartened by the saying, he went away sorrowful, for he had great possessions.
23 And Jesus looked around and said to his disciples, "How difficult it will be for those who have wealth to enter the kingdom of God!" 24 And the disciples were amazed at his words. But Jesus said to them again, "Children, how difficult it is to enter the kingdom of God! 25 It is easier for a camel to go through the eye of a needle than for a rich person to enter the kingdom of God." 26 And they were exceedingly astonished, and said to him, "Then who can be saved?" 27 Jesus looked at them and said, "With man it is impossible, but not with God. For all things are possible with God." 28 Peter began to say to him, "See, we have left everything and followed you." 29 Jesus said, "Truly, I say to you, there is no one who has left house or brothers or sisters or mother or father or children or lands, for my sake and for the gospel, 30 who will not receive a hundredfold now in this time, houses and brothers and sisters and mothers and children and lands, with persecutions, and in the age to come eternal life. 31 But many who are first will be last, and the last first."
(
Psalm 22:1–15 (Listen)
To the choirmaster: according to The Doe of the Dawn. A Psalm of David.
22:1 My God, my God, why have you forsaken me?
Why are you so far from saving me, from the words of my groaning?
2 O my God, I cry by day, but you do not answer,
and by night, but I find no rest.
3 Yet you are holy,
enthroned on the praises of Israel.
4 In you our fathers trusted;
they trusted, and you delivered them.
5 To you they cried and were rescued;
in you they trusted and were not put to shame.
6 But I am a worm and not a man,
scorned by mankind and despised by the people.
7 All who see me mock me;
they make mouths at me; they wag their heads;
8 "He trusts in the LORD; let him deliver him;
let him rescue him, for he delights in him!"
9 Yet you are he who took me from the womb;
you made me trust you at my mother's breasts.
10 On you was I cast from my birth,
and from my mother's womb you have been my God.
11 Be not far from me,
for trouble is near,
and there is none to help.
12 Many bulls encompass me;
strong bulls of Bashan surround me;
13 they open wide their mouths at me,
like a ravening and roaring lion.
14 I am poured out like water,
and all my bones are out of joint;
my heart is like wax;
it is melted within my breast;
15 my strength is dried up like a potsherd,
and my tongue sticks to my jaws;
you lay me in the dust of death.

(ESV)