Fully Alive in Jesus - Looking Forward with Hope (Psalm 25:1-10, 1 Thessalonians 3:9-13)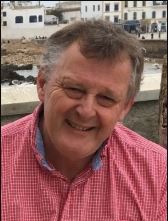 Rev Trevor Klar, 2 December, 2018
preached at a
Sunday Morning
service
The best way to measure our Christmas is to think about the measure of God's love, who put at risk his only Son, who sent him to a situation where he would be misunderstood even by those close to him, face constant harassment from those opposed and then to see him betrayed and crucified, and the Father choosing not to intervene and save him. That is the best measure of Christmas and I encourage you this Advent to use this as your measure!!
Psalm 25:1–10 (Listen)
Of David.
25:1 To you, O LORD, I lift up my soul.
2 O my God, in you I trust;
let me not be put to shame;
let not my enemies exult over me.
3 Indeed, none who wait for you shall be put to shame;
they shall be ashamed who are wantonly treacherous.
4 Make me to know your ways, O LORD;
teach me your paths.
5 Lead me in your truth and teach me,
for you are the God of my salvation;
for you I wait all the day long.
6 Remember your mercy, O LORD, and your steadfast love,
for they have been from of old.
7 Remember not the sins of my youth or my transgressions;
according to your steadfast love remember me,
for the sake of your goodness, O LORD!
8 Good and upright is the LORD;
therefore he instructs sinners in the way.
9 He leads the humble in what is right,
and teaches the humble his way.
10 All the paths of the LORD are steadfast love and faithfulness,
for those who keep his covenant and his testimonies.

(
1 Thessalonians 3:9–13 (Listen)
9 For what thanksgiving can we return to God for you, for all the joy that we feel for your sake before our God, 10 as we pray most earnestly night and day that we may see you face to face and supply what is lacking in your faith?
11 Now may our God and Father himself, and our Lord Jesus, direct our way to you, 12 and may the Lord make you increase and abound in love for one another and for all, as we do for you, 13 so that he may establish your hearts blameless in holiness before our God and Father, at the coming of our Lord Jesus with all his saints.
(ESV)