In the shoes of the Baptist
for 4 December 2022
 
We continue our series on John the Baptist with Matthew 11: 2-11.

We may be distracted by the imagery of John the Baptist wearing camel skins and eating the desert equivalent of bush tucker. The reality was that he was a firebrand of a preacher who attracted a huge following. He chose the desert to separate himself from the Jerusalem priests whose focus was on accumulating wealth and power. John's focus was on the message of repentance and demonstrating it by cleansing in the River Jordan as a precursor to being baptised by Jesus with the Holy Spirit. He could not stay silent in the face of wrongdoing which is how he ended up being imprisoned by Herod Antipas when he condemned Herod's improper marriage.

Having not heard from a prophet for 400 years, there was clearly confusion in the people about who John and Jesus were. John, from prison wanting his disciples to understand, did not engage them in an intellectual discussion but sent them to experience Jesus. Jesus praises John for his effective preaching and baptising.

What we learn from John is to focus on serving God, and serving the community need and not be distracted by material things or success, and doing it with great humility. However, we have a great advantage over John for we know of the great love of God shown by Jesus on the cross.
 
Ian Olver
BCUC News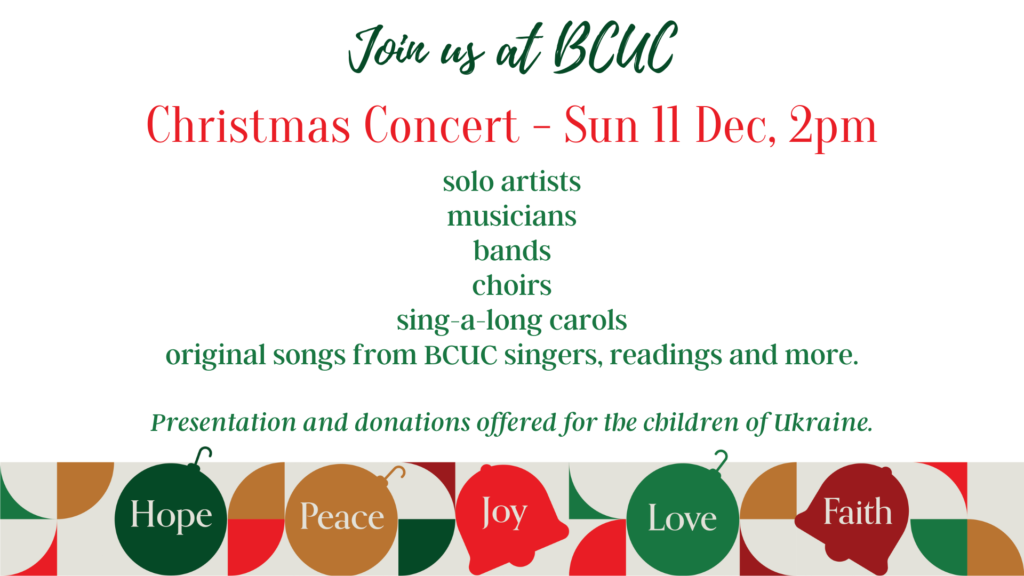 Christmas Service Invitation Cards
Christmas invitation cards are available in the foyer this week for you to remind yourselves of what's happening over the Christmas season and to give to family, friends, or a neighbour.  More cards will be available from Monday and we'd invite you to drop by the church early in the week to pick up a stack to place in letterboxes in your neighbourhood.  There is a map in the office where you can mark off the streets you will deliver to.  All cards need to be delivered in this coming week as the first event is our Christmas Concert on the 11th.
Over the last 2 weeks people from local churches have had the privilege of being able to come to local primary schools to do a play about the very first Christmas. We then take questions from the kids ranging from "what does this have to do with Father Christmas?" to "how is this story connected to Jesus death and resurrection?"  If you know students from Burnside, Seymour, Marryatville or Magill primary schools, ask them about the play about "Herod and his spies". 
Request from Kids Ministry Team
The Kids Ministry would love for you to bring in any plastic ice-cream, butter, or similar containers so the kids can use them to make drums (lids not needed).  Drop them off this Sunday or anytime over the next week.
 
News from The Pantry
New season strawberry jam is available in The Pantry today! All funds raised go to support the work of Barnabas Aid in Myanmar.
The 2023 Uniting Church Calendar is now available.  We have a limited quantity, so if you would like one, please ask at the reception desk on Sunday or send an email to Stuart to put one aside for you.
Generate Gathering – Videos now Available
There were some great sessions at the gathering on the 22nd of October. Head to the Generate website at https://generate.ucasa.org.au/2022-meetings/ to see all of the sessions. * Rev Scott Button sharing his vision as he starts as the new Chairperson of Generate in 2023 * Leadership Development session with Rev Andy Hogarth and a Q&A Panel around Championing Leaders * Renewal session with Rev Barry Littleford * Women in Leadership session with Dr Cheryl McCallum and a Q&A Panel around Championing Women in Leadership.
A reminder that 'Unexpected Joy' is a Christmas gift opportunity for SA Synod congregations to contribute to our Uniting Care organisations and congregations with a special toiletry gift for a vulnerable adult. Closing dates for receiving gifts vary and not every Uniting Care congregation participates in gift giving. Check out those who do and the dates they need goods to be delivered by at this link.
The link above will take you to our YouTube playlist. Select the first entry in the playlist to watch this week's service (from Sunday 10am or anytime later in the week.)
Breakthru Music
If you have enjoyed the worship music that our congregation has created for our Breakthru Worship videos, you can listen or download them from our
Breakthru Music playlist.
Ministry Team Contacts
Minister
Rev Dr Benji Callen – benjic@burnsidecityuc.org.au; Day off : Monday 


Minister in Association
Rev Rob Williams – robw@burnsidecityuc.org.au; Day off : Friday
 
Connections Coordinator
Nancy Xu  – connections@burnsidecityuc.org.au; Wednesdays
 
Administrator
Stuart MacAdam – 8331 3914; admin@burnsidecityuc.org.au
 
Office hours Mon-Fri. 10:00am-4:00pm; call 8331 3914.