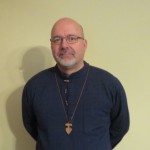 You give them something to eat." (Mark 6:37)
Last Saturday 24 people from Burnside City gathered for the day to continue the
process of discerning God's loving desire for the church through the next few years. Building on information drawn from the National Church Life Survey, the Spiritual Gifts identification process, the Vision and Mission Day in August, and responses from the Sunday prayer gathering, those gathered sought to discern threads which may open us to the future direction in which God desires to take Burnside City.
It was my privilege to be asked to facilitate the day. In doing so, I structured the day around the story of the feeding of the 5,000 form Mark's Gospel. What has that got to do with discerning the future for BCUC? Well, I think, plenty.
In the story Jesus is seeking some time away from the crowds and the pressure of
ministry for himself and the disciples. They depart by boat seeking a deserted place to be by themselves. However, it was not to be. The crowds saw where they were headed and arrived there before Jesus and the disciples. Although desiring solitude and rest, Jesus had compassion on the crowds and continued to teach them.
Late in the day the disciples suggested to Jesus that it might be time to send the crowds away to find some food. But then Jesus did an amazing thing. He put the
matter back onto the disciples: "You give them something to eat." The disciples
immediately respond by pointing out to Jesus that they didn't have the resources to do that. But Jesus asks them: "How many loaves have you?" Although there were only five (and two fish) they found that when you take what little you have and offer it to Jesus, amazing things can happen.
And that is what we focused on last Saturday- what are the loaves Burnside City has, what are the hungers people have and how can we bring the two together?
As the day progressed we, like the disciples, sensed the hungers were great and we wondered about our resources to respond to them. We recognized that we cannot address all the hungers people have, but we have been blessed with some amazing resources in people, facilities, finances and more, and that when given to Jesus many can be fed.
What are the loaves you bring to be used to feed people? What are the hungers that we see in people? And how can what God has blessed us with at BCUC be used to
satisfy the many hungers people have?
Gary Stuckey (Rev)